Son Volt: 8:30pm
There are only two kinds of songs," Townes Van Zandt said, well before he died. "There's the blues, and there's zip-a-dee-doo-dah." The new Son Volt album is titled Notes of Blue.
Simple as that, maybe.
Just now pushing fifty, Jay Farrar, the creative force behind Son Volt, is still not as old as his voice. Not nearly. His singing voice, an ageless gift which sounds something like old timber looks, like the unpainted walls framing Walker Evans' best portraits from Let Us Now Praise Famous Men: simple, durable, weathered and grooved and unplanned.
The Sheepdogs: 7:00pm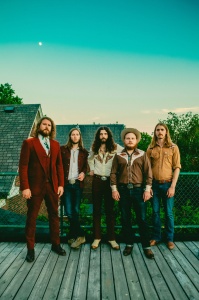 Trends come and go, styles fall in and out of fashion, but The Sheepdogs remain steadfast in their commitment to rock n' roll excellence. Since their inception, the band has always sought to play the kind of music they themselves love: "Pure, simple, good-time music," as singer/guitarist Ewan Currie puts it. It's no surprise, then, that the band's fifth LP, Future Nostalgia, is firmly rooted in the rock tradition that listeners have come to expect from the boys.
From their cramped Saskatchewan jam space to gold and platinum records and shows with rock icons, The Sheepdogs haven't strayed from their goal of sharing pure, passionate rock n' roll with anyone who'll listen – and Future Nostalgia is packed with it.
Mo Lowda and The Humble: 5:30pm

Known for their progressive song writing and energetic live performances, Mo Lowda & The Humble's beginnings were in the beer-soaked basements of Philadelphia. Following the release of their first full length album in 2013, the trio, consisting of Jordan Caiola, Shane Woods, and Nate Matulis began playing venues throughout the city. After experiencing the high of multiple sold out hometown shows, Mo Lowda took their act on the road and began consistently touring the country.  Their 2016 sophomore release, 'Act Accordingly', was a short and sweet embodiment of the band's natural progression; refining their already formidable sound. Following that release, Jeff Lucci stepped in as the new bassist, bringing his unique songwriting and tasteful use of effects pedals into the mix.  On the heels of playing over 100 shows nationwide in 2017, Mo Lowda is set for a full US tour In 2018, in support of their upcoming Full-Length entitled "Creatures".